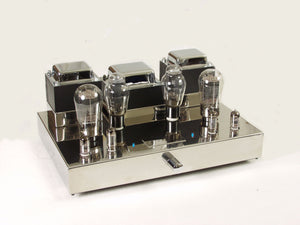 Art Audio PX25 MKii 5w Stereo Power Amplifier
Notes on pics below - two of them are of our Carissa and Integra 211.  If you opt for SS rectification, the amp is in our Carissa chassis and you have the choice of chassis color and to add lights and lums.  If you opt for tube rectification, the amp is our Diavolo chassis which is available in chrome.  
The amp ships with new KR PX25 tubes.  
Art Audio is proud to announce the return of the PX25 Power Amplifier in the form of the new PX25 MKii.  The PX25 MKii delivers the same, extraordinary sound as the original PX25 but quieter. 
If you aren't familiar with our original PX25, you may be wondering what the PX25 tube sounds like.  The PX25 offers midrange detail close to the level of a 2A3 but with a lushness that is closer to a 300B.  It is a magical middle ground that offers the best qualities of two amazing tubes.  

All Art Audio amps are hand made in the UK and will take 4-6 weeks for delivery one ordered.  
Specifications:
Power Output: 5 wpc
THD: less than 1%
S/N Ratio: >85 dB
Output Impedance taps: 4 and 8 Ohm
Input Sensitivity : 400mV
Input Impedance: 180 kOhm
Frequency Response: 10 Hz to 20 kHz +/- 0.5 dB

Chassis:  Chrome
Weight : 60 lbs.