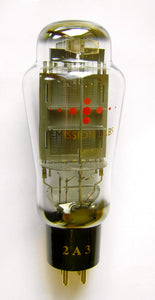 Emission Labs 2A3-S Mesh (Pair)
The first owner can register the tube at the Emission Labs ®website, to participate in the 5 years guarantee program.


Sound Character of the EML 2A3-mesh

When a tube is given mesh Anodes, something magic happens to the sound.We believe this is caused by the high damping properties of the wire mesh material.When using mesh tubes, you will experience what people call a more "transparent" sound stage, meaning a more realistic stereo reproduction of the original sound recording. With this quality product you will enjoy the very best of what small triodes have to offer.

The EML 2A3-Mesh tube is constructed for lowest microphonics. All critical parts, like filaments and grid sare made of hard metal for higher reliability and reproducible quality. The tube base is now glued on the glass with anti-vibration rubber.