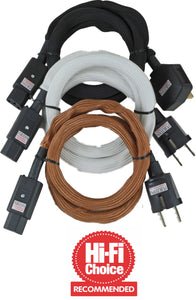 Puritan Classic Plus Power Cables
Classis Plus cables are stocked in black in the US. They are in-stock and drop-ship from the distributor.  
Classic & Mains Cables

For our cable designs we look critically at the value aspect of every element incorporated into the design and construction. What area of investment makes a real difference to the sound and what is pointless eye candy.
Without any doubt vibration distortion as picked up by and transmitted by mains cables is the biggest undoing of any otherwise competently designed cable and that is where we start but of course our attention to detail extends to all of the materials content and to the terminations at each end. Also including a massive study of how to optimally screen against the widest bandwidth of electromagnetic disturbances not merely those easily screened by conventional materials and methods.
Moving up, our Classic Plus Cable introduces an additional screening layer to the unique carbon nanotechnology screen already incorporated into the Classic Cable: Trickle down technology from the development program for our Ultimate cable, MAG-X is highly flexible magnetic screen that massively broadens the spectrum of efficacy, greatly improving upon the capabilities of conventional RFI screens. The addition of this extra screening layer to our Classic cable formula gives us the Classic PLUS, bridging the gap between our Classic and Ultimate power cords.