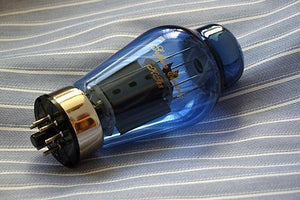 Sophia Electric Coke-bottle KT88-ST Tubes (single)
Art Audio only sells Grade A Tubes from Sophia Electric.  Please specify if you are looking for matched pairs or quads in notes.     
This patented Sophia Electric coke-bottle KT88-ST (long life version) tube has the most refined sounding with best high frequency extension, a cure for the dark sounding KT88 amplifiers. 

Positive Feedback Online Review: "The Sophia Coke Bottle KT88-ST's easily bested my modest collection of glass bottles. These tubes brought to my system clean and detailed high frequencies, round, dimensional, realistic midrange, and full, rich, and taut dynamic bass. This is a very coherent, highly musical tube." -- Francisco Duran

Darren Henley: "The tubes sound so good, that I find myself pulling up track after track. Addictive audio. The most remarkable part of their performance is the seemingly grain-less flow that isn't limited to the mid-range, but extends in both directions out from center. There is such ease to the sound that I am listening more to music than the sound." --
Art Audio does not stock Sophia Tubes but Sophia will drop ship directly to you for us.   Free Shipping on all order and they typically ship within 48 hours.
We do need to check inventory.  If Sophia is out-of-stock you will receive a full refund.