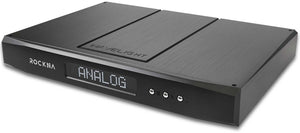 Rockna Wavelight Server
This product is not available for preorder at this time.  We expect preorders to be available and to ship by end of year.  
Roon/MPD/DLNA/Upnp/Airplay/HQPNAA

webserver / ripping using external usb optical drive

8 (12) TB max internal storage (ssd only)

2 x USB 2.0, 2 x USB 3.0 (as in/outputs)

I2S, AES/EBU, Spdif, Optical (as audio outputs)

Hardware upsampling to DSD256/512 (can be enabled/disabled) for I2S output

Direct Audio Path (PCIe Audio) ** by software upgrade

low phase noise internal clocks
Specs and Details Coming Soon - Item is currently on Backorder.