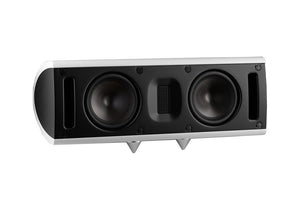 Scansonic HD - MB Center B
The MB Center B is a high performance center channel for a MB home theatre setup. The MB-Center B is like the other MB series speakers built around the amazing MB sealed ribbon planer tweeter. This allows for a stress-free, dynamic and detailed treble presentation.
The main focus on the center speaker has been the frequency range where diction of speech is dominant.
Target has been To present the vital area clean and as articulated as absolutely possible.
The MB-Center has the same dynamic driver section as the MB-2.5 which gives the MB-Center a large dynamic scale and limitless headroom.
Size: (WxHxD) 480 x 178 x 286 mm
Weight: 10,3 kg
Freq. response: 45 Hz – 40 kHz
Impedance: > 4 ohm
Crossover: 3.5 kHz 2. order acoustic slope 250 HZ 1. Order slope
Enclosure: Curved, heavily braced, ventilated box design with adjustable aluminum feet
Drive units: 1 sealed ribbon tweeter with kapton/aluminum
sandwich membrane!
2 carbon coned 4,5" bass/mid driver with overhung magnet system
Finish: Black-silk or White-silk
Amplification: We recommend high quality amplifiers >50W